Did you see it? www.byyouhands.blogspot.com is having a Link Party today!! And if you're not reading this until Monday, Tuesday... or even Friday, you can still participate.

This is a great (FREE) way to gain traffic to the items you have listed for sale.

Head on over there to "play".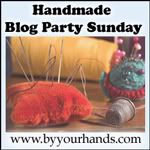 Deena Davis
www.EweNmePrintables.com