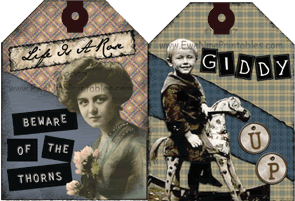 I love creating Digital Art, and I especially like using vintage photographs. I recent started a new line of printable hang tags that have a great altered art look. I call them "chunky tags" just because they're bigger than most hang tags and are kinda - well, chunky. They measure approx. 3.25" wide by 4.75" tall.

I'm currently running a sale on some of my chunky tags on my page of the PCAD Mercantile website. Each set normally sells for $3.50 but for a short time I'm running them at the introductory price of $1.50 per set.

CLICK HERE or on the pics above to purchase.