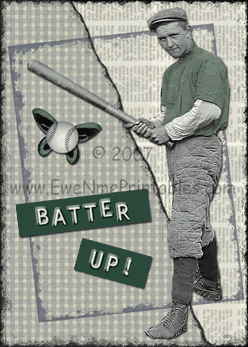 I've been working on a lot of digital ACEO's/ATC's lately. - I think it's becoming an obsession. LOL Above is a piece I created and named "batter up".

When I first started into the world of Altered Art. (not that long ago) I wasn't sure what the difference between an ACEO and an ATC. Actually there isn't much difference at all. Below is the definition of an ACEO. - I'll talk about ATC's another day. ;-)

ACEO is an acronym for Art Cards Editions and Originals. ACEOs are collectible little pieces of art. An ACEO is always two and one-half inches by three and one-half inches. That is the size of a standard sports trading card. The rule about size is the ONLY rule in the ACEO world. An ACEO can be created in any medium the artist desires: paint, colored pencils, ink, etc. There are even ACEOs made from wood, clay, fabric, and metal - if you can create it the proper size, it's an ACEO.